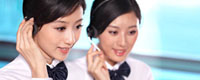 Name: Ivy Gong
Tel: +86-13632718660
E-mail: info@jhacparts.com
Add: 10G, 10F, Unit 1, Jing Ting Xuan, Zhongzhao Gardan, Longgang District, Shenzhen, Guangdong, China (Mainland)
Skype: jhacpartsivy



Product name : Valve Reed NO.7

Product No. : NO. 7

Price : US$ 0.1-0.5

Brand : Air Compressor

Material : Stainless steel 7C 20C

Size : 38.1 MM * 79.35 MM

Application : Semi-hermetic refrigerating compressor

Voltage :

Whether standard parts : Standard

Condition : New

MOQ : 50 pieces

Weight : 0.02 KG / 50 pieces

Packing : 50 pieces / poly bag
Details:
Compressor Valve Reeds Description
High accuracy

Various apertures, shapes and bar combinations

Valve Reeds is the very important parts for Semi-Hermetic Refrigerating Compressor,Automotive Air-conditioner compressor,Air compressor.As bock,bitzer,Carrier,Copeland,sanyo,dorin and others.

It is very popular in the market with good quality, long durability,competitive price etc.

All production processes are strictly controlled in accordance with ISO quality management system.