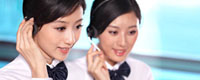 Name: Ivy Gong
Tel: +86-13632718660
E-mail: info@jhacparts.com
Add: 10G, 10F, Unit 1, Jing Ting Xuan, Zhongzhao Gardan, Longgang District, Shenzhen, Guangdong, China (Mainland)
Skype: jhacpartsivy



Product name : Compressor Clutch 1A9PK 215MM

Product No. : 1A9PK 215MM

Brand : BOCK,BITZER

Material : Steel

Size : 1A9PK 215MM

Application : bock fk40,BITZER(4U.4T.4P.4NFCY) Compressor

Voltage : 24V

Whether standard parts : Standard

Condition : New

MOQ : 1 piece

Weight : 18 KG

Packing : 1 piece/carton
Details:
Compressor Clutch 1A9PK 215MM
Ac Compressor Brand:

We can supply all kinds of compressor Clutch for Bock, Bitzer, Mando, Hispacold, Carrier And Thermoking....

Customized:

The Pulley, Shaft Bush And Coil Size Can Be Customized According To Customers'Special Request.

Applicable:

Private School Bus, Road Bus, City Bus, Fuel Bus, New Energy Bus, Special Vehicle, Tourist Bus, Double Decker Bus, Bus, Bus,tour bus. tour car. (For a variety of domestic and international brands Bus)

Bus Brand:

Yutong,Zhongtong,Kinglong

and other brands from all over the world.

Structure:

The bus ac Clutch suit for compressor, it is compact structure, convenient installation, reliable operation and energy saving. At the same time, it is high quality at competitive price.

Market:

This Clutch is perfect choice for bus ac compressor and it is widely use in Asia, America, Europe, Africa bus air conditioner system Content.
Compressor Clutch Technical Data


| | |
| --- | --- |
| Model number | 1A9PK-215 |
| Rated Voltage | DC 24V |
| Application | BOCK,(FKX-40) BITZER (4U.4T.4P.4NFCY) |
| Consumed Power | 60W |
| Static Friction Torque | 240N.m |
| Operating Revolution | 500-3500r.p.m |
| Max. Speed | 4000r.p.m |
| Strap Wheel Diameter (Groove Model) | 215mm 1A9PK |

Clutch Model Table
| | | | | | | |
| --- | --- | --- | --- | --- | --- | --- |
| Serial NO. | Model No | Voltage | Power | Pulley Groove | Pulley Diameter | Application |
| 1 | 2B-160 | 12/24V | <60W | 2B | 160 | Bitzer(4U-4NFCY),Bock(FKX-40) |
| 2 | 2B-190 | 12/24V | <60W | 2B | 190 | Bitzer(4U-4NFCY),Bock(FKX-40) |
| 3 | 2B-200 | 12/24V | <60W | 2B | 200 | Bitzer(4U-4NFCY),Bock(FKX-40) |
| 4 | 2B-210 | 12/24V | <60W | 2B | 210 | Bitzer(4U-4NFCY),Bock(FKX-40) |
| 5 | 2B-220 | 12/24V | <60W | 2B | 220 | Bitzer (4U-4NFCY),Bock(FKX-40) |
| 6 | 3B-220 | 12/24V | <60W | 3B | 220 | Bitzer (4U-4NFCY),Bock(FKX-40) |
| 7 | 7PK-160 | 12/24V | <60W | 7PK | 160 | Bitzer (4U-4NFCY),Bock(FKX-40) |
| 8 | 10PK-180 | 12/24V | <60W | 10PK | 180 | Bitzer(6PFCY,6NFCY),Bock(FKX-50) |
| 9 | 10PK-190 | 12/24V | <60W | 10PK | 190 | Bitzer(6PFCY,6NFCY),Bock(FKX-50) |
| 10 | 2A2B-280/230 | 12/24V | <60W | 2A2B | 280/230 | Bitzer(6PFCY,6NFCY),Bock(FKX-50) |
| 11 | 2A2B-280/190 | 12/24V | <60W | 2A2B | 280/190 | Bitzer(6PFCY,6NFCY),Bock(FKX-50) |
| 12 | 2A2B-216/210 | 12/24V | <60W | 2B | 216/210 | Bitzer(4U-4NFCY),Bock(FKX-40) |
| 13 | 2A2B-235/210 | 12/24V | <60W | 2A2B | 235/210 | Bitzer(4U-4NFCY),Bock(FKX-40) |
| 14 | 2A2B-230/210 | 12/24V | <60W | 2A2B | 235/210 | Bitzer(4U-4NFCY),Bock(FKX-40) |
| 15 | 2A2B-235/190 | 12/24V | <60W | 2A2B | 235/190 | Bitzer(4U-4NFCY),Bock(FKX-40) |
| 16 | 4B-235/210 | 12/24V | <60W | 4B | 235/210 | Bitzer(4U-4NFCY),Bock(FKX-40) |
| 17 | 2A2B-260/160 | 12/24V | <60W | 2A2B | 260/160 | Bitzer(4U-4NFCY),Bock(FKX-40) |
| 18 | 2A2B-260/216 | 12/24V | <60W | 2A2B | 260/216 | Bitzer(4U-4NFCY),Bock(FKX-40) |
| 19 | 2A2B-260/220 | 12/24V | <60W | 2A2B | 260/220 | Bitzer(4U-4NFCY),Bock(FKX-40) |
| 20 | 2A2B-260/210 | 12/24V | <60W | 2A2B | 260/210 | Bitzer(4U-4NFCY),Bock(FKX-40) |
| 21 | 2B-202 | 12/24V | <60W | 2B | 202 | Bitzer(F400Y) |
| 22 | 2B-207 | 12/24V | <60W | 2B | 207 | Bitzer(F400Y) |
| 23 | 2A2B-220/202 | 12/24V | <60W | 2A2B | 220/202 | Bitzer(F400Y) |
| 24 | 3B-232/207 | 12/24V | <60W | 3B | 232/207 | Bitzer(F400Y) |
| 25 | 220-2B | 12/24V | <60W | 2B | 220 | Bitzer(F600Y) |
| 26 | 2A2B-260/220 | 12/24V | <60W | 2A2B | 260/220 | Bitzer(F600Y) |
| 27 | 2A2B-235/210 | 12/24V | <60W | 2A2B | 235/210 | Bitzer(4U-4NFCY) |
| 28 | 1B-32C | 12/24V | <60W | 1B | OPTION | DKS32,TM31 |
| 29 | 2B-32C | 12/24V | <60W | 2B | OPTION | DKS32,TM31 |
| 30 | 2B-10P30C | 12/24V | <60W | 2B | OPTION | 10P30C,10P30B |
| 31 | 2O-10P30C | 12/24V | <60W | 2O | OPTION | 10P30C,10P30B |
| 32 | 2A2B -226/197 | 12/24V | <60W | 2A2B | 226/197 | Thermoking (X426,X430) |
| 33 | 2A2B-260/210 | 12/24V | <60W | 2A2B | 260/210 | Hispacold Compressor/Spanish Compressor |
| 34 | 1A9PK-270/190 | 12/24V | <60W | 1A9PK | 270/190 | Hispacold Compressor/Spanish Compressor |
| 35 | 210/6pk-190/10pk | 12/24V | <60W | 16PK | 210/190 | Hispacold Compressor /Spanish Compressor |
| 36 | 2B-195 | 12/24V | <60W | 2B | 195 | Mando (MBA-51, MBA-55) |
| 37 | 4B-230/210 | 12/24V | <60W | 4B | 230/210 | Mando (MBA-51, MBA-55) |